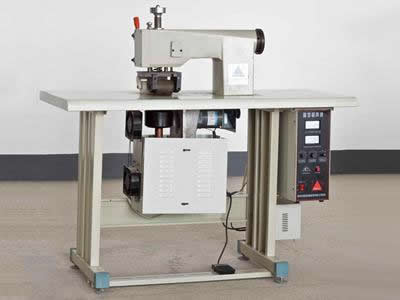 Jt-100-s ultrasonic sewing machine
Brief introduction:
Jts-100 can also be designed according to customers' needs. It is suitable for making lace clothing, ribbon, decorative products, handkerchief, tablecloth, curtain, bedspread, pillow case, quilt cover, nonwovens and other products.
Detailed description
Application
patterns of JT-100-S model are diverse, and we can also provide designs according to customer needs. Suitable for making lace garments, ribbons, decorative products, handkerchiefs, tablecloths, curtains, bedspreads, pillowcases, duvet covers, non-woven fabrics and other products.
Applicable materials: chemical fiber cloth, artificial leather, non-woven fabric, spray cotton, thermoplastic film, chemical plastic sheet, etc.
parameter
| | |
| --- | --- |
| Operating Voltage | 220V |
| input power | 1800-2500W |
| Output frequency | 20KHZ |
| Running speed | 0-20m/min |
| Pattern size | Width: 0-100mm; Diameter: Ø50-Ø80mm |
| Dimensions (length * width * height) | 1200*600*1200mm |
| net weight | 100KG |
Configuration

Intelligent ultrasonic generator;

20KHz ultrasonic transducer device;

Single/double motor speed control system;

Manual (or optional pneumatic) pattern lifting system
Features

Trimming: Single-sided straight or curved cutting, and edge melting treatment, so that the edge is smooth, not rough, and without burrs;

Stitching: Two or more layers of fabrics are stitched together, wireless needleless instead of sewing, and good welding strength;

Hole-cutting: Cut out holes of various patterns and do edge melting treatment;

Stripping: Single or multiple strips of the material can be opened and cut at the same time, and the edges should be melted without burrs;

Forming: Cutting, stitching, and embossing at the same time, so that the product is formed at one time.
Features

The device has a built-in computer chip and a multi-channel ultrasonic protection system to ensure the safe and stable operation of the host;

Super power output, with three levels of adjustable power, suitable for welding and cutting requirements of different materials and thicknesses;

The application of automatic frequency tracking system and ultrasonic soft start technology makes the performance of this machine reach the international level;

There are various patterns of patterns, and designs can be provided according to customer needs;

The running speed is four times that of ordinary sewing machines, and the operation is simple.
Sample display
Message
Prev:Jt200q ultrasonic sewing machine
Next:No Prev